Introduction to Photo Cut-Out Animation Part 3
In part 1 and part 2 of this series on photo cut-out animation; I used the graphic of a caricature of Friz Freleng and the Pink Panther to demonstrate how to convert a single graphic into a fun animation. In part 3, I'm going to try to demonstrate even more cartooning that you can do with the new "Import and Vectorize with Texture" feature of Toon Boom Studio V4.0.

Animation is usually thought of as drawing intensive. The advent of animation software like TBS has certainly brought the joy of creating animation to everyone, but it can't do much to solve the lack of drawing skills that so many people would like to overcome. Certainly cut-out animation is a great way to reduce the need for so many drawings, but there still needs to be some initial drawing of the character to create the cut-out puppet. Photo cut-out animation has always been possible but was not as easy and required significant preparation work outside of TBS to create the characters themselves. Now with version 4.0, photo cut-out animation is much easier to implement and can be done almost entirely inside TBS. Perhaps the most famous and successful form of true photo cut-out animation are the cartoons from JibJab. So I am going to try to demonstrate how you can creatively put together a JibJab style cartoon without any real drawing being involved. It is a fun cartooning style for anyone to master without regard to your draftsmanship abilities.

With Halloween being an upcoming holiday, it seems appropriate to use that as a creative theme for this cartoon example. I wanted to make it a musical like most of the JibJab cartoons, so I chose Bobby Pickett's famous song "Monster Mash". In this tutorial I am only using a small snippet from the beginning of the song so that I can keep things simplified.

I took just that short sound snippet and imported it into a TBS sound element at 24 FPS. I could have used the TBS lip sync feature to breakdown the mouth movements, but I chose to do it manually. So my first step was to do some old fashion "track reading" to produce a bar chart of when each word is spoken. A bar chart is similar to the familiar time line in that it shows frames horizontally in a time sequence. By carefully listening to the song over and over in the sound editor panel, I was able to identify the frame at which each word is spoken. I make note of this on the bar chart so that later when I'm ready to animate the character's mouth I'll have it as a guide.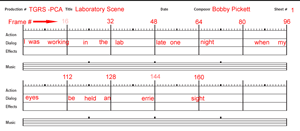 Bar Chart of Sound Snippet (click to enlarge)
I'm ready to start creating my character photo assets to animate. I found a great wacky ghoulish looking photo to be the head of my cartoon character. So I just need to import this photo into a drawing element using the "import and vectorize with texture" command.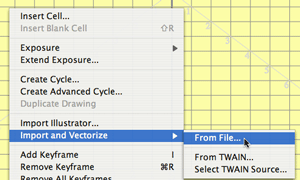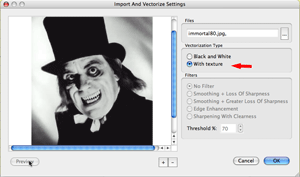 Now that I have the photo imported into my drawing element, I'll use the scissors tool to do a "rough" cut-out of the character's head. I pull a bounding box around the desired picture area and drag it to separate it from the rest of the photo. Then using the drawing select tool, I select the unwanted part of the photo and delete it. Next I switch to the contour edit tool and begin the process of adding contour points to the outline of the head and dragging those contour points to define the head's outline.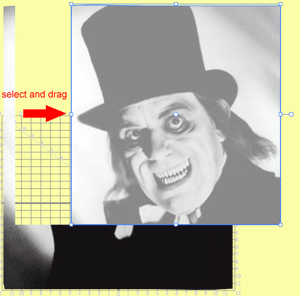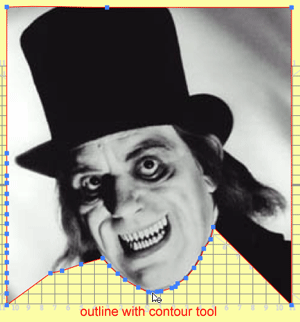 The ends of this character's wild hair presents a bit of a challenge, so I zoom in and use the eraser tool to clean up the details of his hair. As you can see using the eraser should be limited to only when you need that level of fine detail as it produces a lot of vector points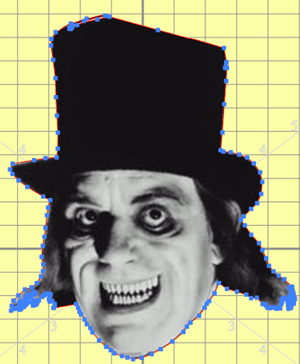 Now I'm ready to create his mouth. There are many ways to approach this, but I'll just show you a typical JibJab style of mouth. I use the scissors tool to select the part of the head that I want for his mouth and drag it off to the side. Then I will use the contour edit tool to add contour points and drag those points to reveal and detail his upper teeth. A really nice thing about the use of "vector boxes" for bit maps is that they essentially are like "masks" and when you pull down on those contour points where his teeth use to be before you cut them out as part of his mouth, you will find that the upper teeth are still there to be included in this part of his head.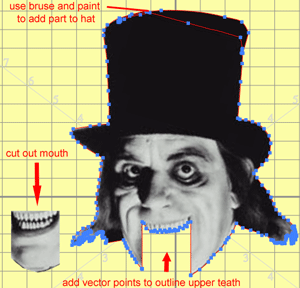 I next will cut the drawing object for the mouth and copy it to a new drawing element. Once I do that, I'll use the contour edit tool to add contour points and outline the lower teeth for his mouth.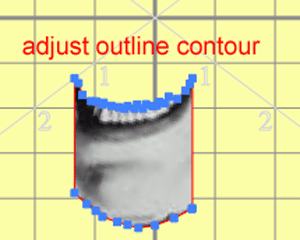 So now I have the head as one element, and the lower mouth as a second element. I will go to the head element and in the void where I removed the lower mouth, I want to add a solid black shape which will act as the inside of his mouth when I move the lower mouth as he is singing. This is done by drawing a stroke line to close the space at his chin and using the paint tool to fill the zone created. Below are the head and lower mouth elements lined up in drawing view to show his naturally closed mouth.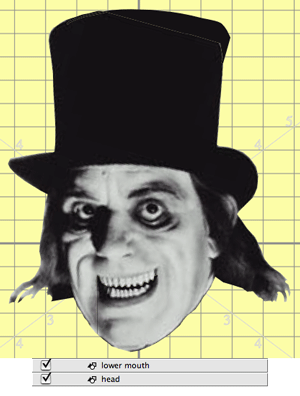 Now to make him "talk" I will just keyframe his lower mouth element using the scene planning transform tool to open and close and position it as required by the song.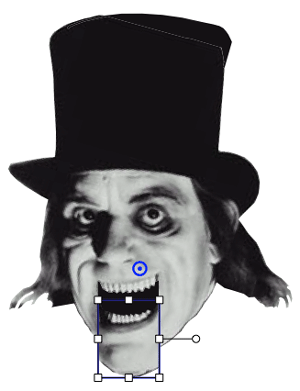 I spent some time looking for a good photo to use as his body and once I found one that looked promising I imported it into a drawing element using the "import and vectorize with texture" command just like I did with his head photo.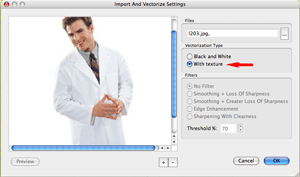 Then using the contour edit tool to first outline the main shape and then the cutter tool to cut-out his arms from that shape, I am preparing the characters body parts. I cut and paste the left arm to a new element and the right arm to a new element. And I also separate the lower part of the right arm and cut and paste it to its own element.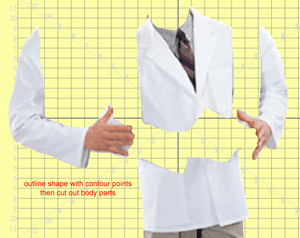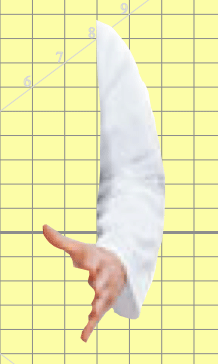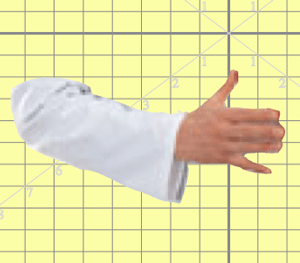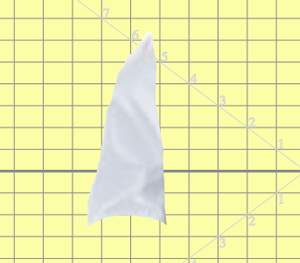 I also have to use the stroke tool and the paint tool to clean up the coat part of the body where his hands use to be. Now, I switch to camera view and using the scene planning select tool, I composite all these elements to produce a photo cut-out character and in the time line I set up his hierarchy.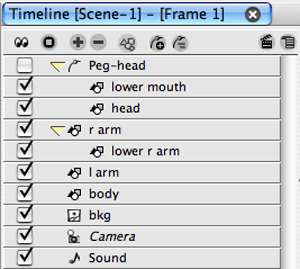 I then use the scene planning rotation tool to position the pivot points for each of his body parts so that they will move naturally.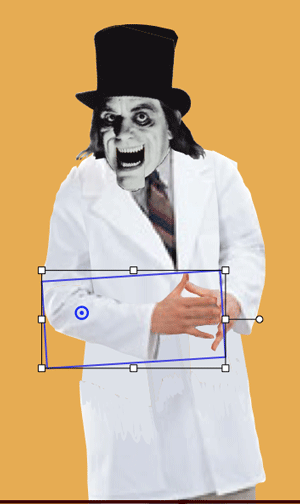 Lower right arm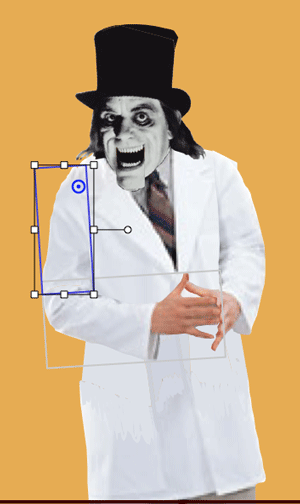 Upper right arm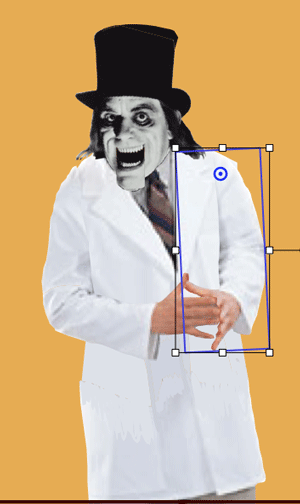 Left arm
Now I'm ready to create the character's performance of the song.
I start by using the bar chart I created to determine at which frames he is speaking the words, and I carefully keyframe his mouth to match the sound track. This takes a number of passes to get the lip sync to where I like it. I want to get his mouth movements animated before I worry about his other gestures. Once I'm happy with the mouth movements I will work on his arm gestures. My goal is to keyframe his right and left arm to try to get some humor and personality into his performance. This is a lot of fun and the creative possibilities for the JibJab style of cartoons are quite significant. I added some background graphics and put an opening scene on the cartoon to set the mood.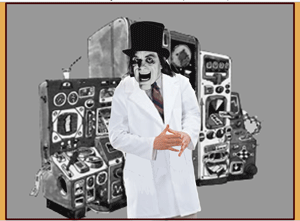 Click this picture to view the final movie

I hope this tutorial gets you really motivated to try making a JibJab style cartoon of your own. They are very entertaining and fun to produce.
Labels: Tutorial